CPT what to do
The city is renowned worldwide for being relatively affordable for international tourists, having an incredible restaurant scene, and offering plenty of outdoor activities.The Mother City racked up some serious awards in 2014: our pretty city was named the best place in the world to visit by The New York Times, appointed World Design Capital 2014, featured second in Travel and Leisure's list of top holiday destinations and deemed the second best African city to visit by TripAdvisor's 2014 Travellers' Choice awards. The unique topography of the region makes it easy to orientate oneself as long as you remember that with Table Mountain behind you and Robben Island before you, you are facing north, looking across Table Bay and up the west coast of Africa
It is in Cape Town that the Rainbow Nation really covers the spectrum. Between beautiful Cape Dutch homesteads, traditional dancers with painted faces performing in the streets, the smell of spicy Malay cooking and the taste of a well-made wine, this city will fill your senses. The bells of St George's Cathedral alternate with the plaintive tones of the muezzin calling the faithful to prayer. Visitors give a startled jump, and Capetonians calmly glance at their watches, when the noon gun booms above the city – a relic from the days of sail when sea captains had to check their chronometers.
It has the top five national attractions in South Africa, all of which should appear on every visitor's itinerary all year round. These include a visit up Table Mountain, either by cable car or manually climbing up routes of varying degrees of difficulty; and the Kirstenbosch Botanical Gardens, internationally acclaimed as one of the great botanical gardens of the world.
The Victoria & Alfred (V&A) Waterfront, one of the city's main tourist attractions, offers the visitor a unique shopping and holiday experience on a scenic working harbour. Currently undergoing expansion, the complex features shops, restaurants, launch areas for short cruises and a variety of entertainment for those who flock through it by day and night.
Cape Town is also probably the most popular backpackers destination anywhere, with more hostels than any other city worldwide. It's also the home of the backpackers special, the Baz Bus.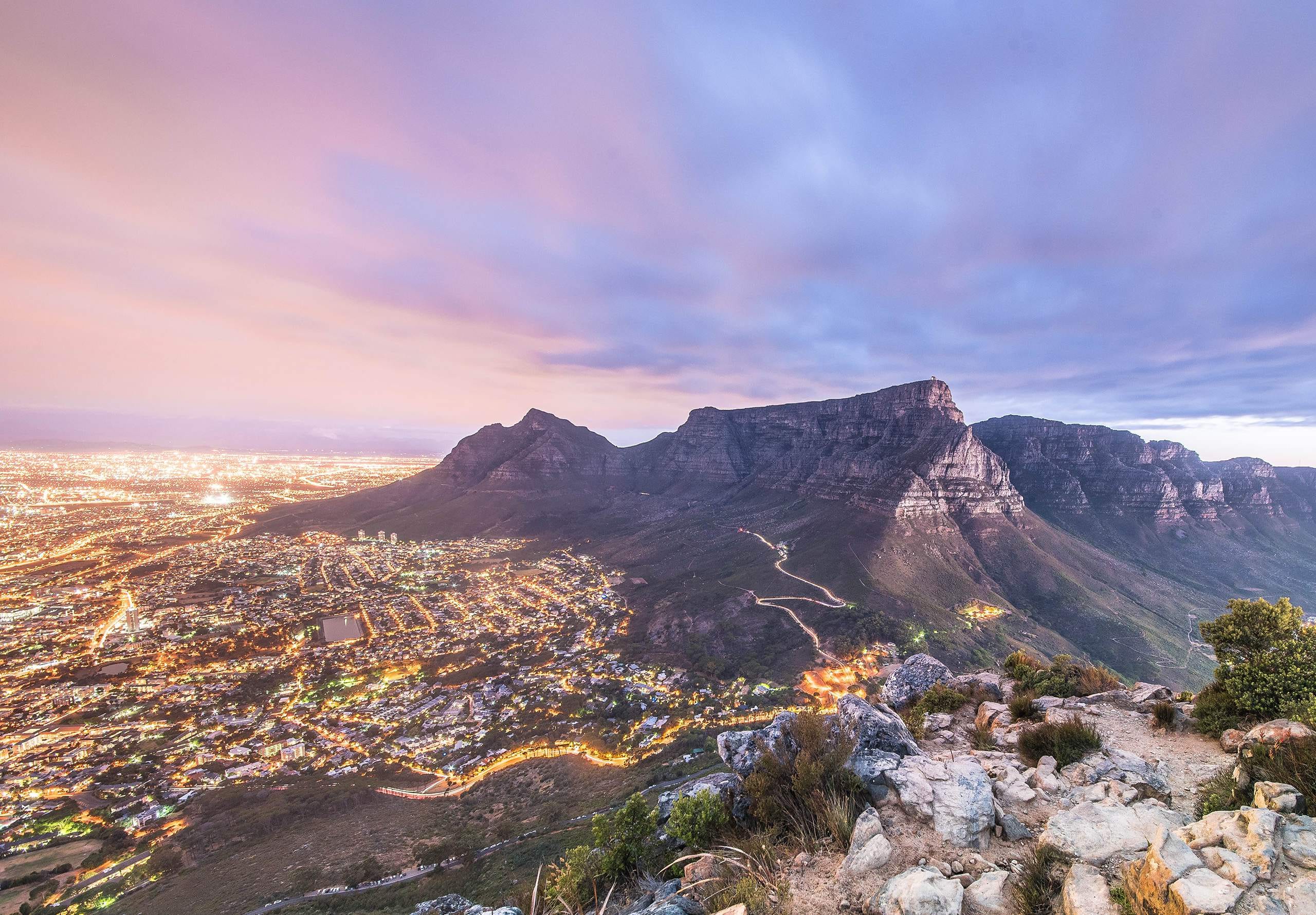 Aerial View of Cape Town Night Lights
Early History
By the late 16th Century, Dutch, Portuguese, French, Danish and British ships regularly berthed in Table Bay and traded for fresh meat and produce with the KhoiKhoi inhabitants. In 1652, the Dutch East India Company (VOC) sent Commander Jan van Riebeeck and his crew to establish a fresh produce way-station for their passing ships at the site of the present-day city of Cape Town. The Dutch brought vines, fruit, vegetables and cereals that dramatically changed the natural environment and shaped the endeavours of future generations. This was the first European settlement in South Africa. Today, Cape Town is the legislative capital of South Africa, and a popular tourist destination known for its beaches, vineyards and majestic landscapes and limitless ocean.
Cape Town is not known as the "Mother City" for nothing. It is here that one comes across a 600-000-000-year-old mountain, it is here one can find fossil remains dating back 5 000 000 years. It is here that some of the earliest ever recorded communities lived in sight of Table Mountain 27 000 years ago, it is here that the first Europeans landed searching for a sea route from Europe to Asia.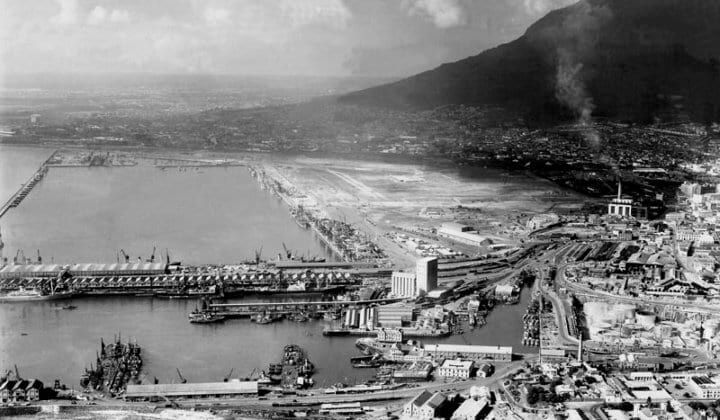 Early Days of Cape Town Harbour
Popular things to see and do in Cape Town
Shop and enjoy a lunch at the famous V&A Waterfront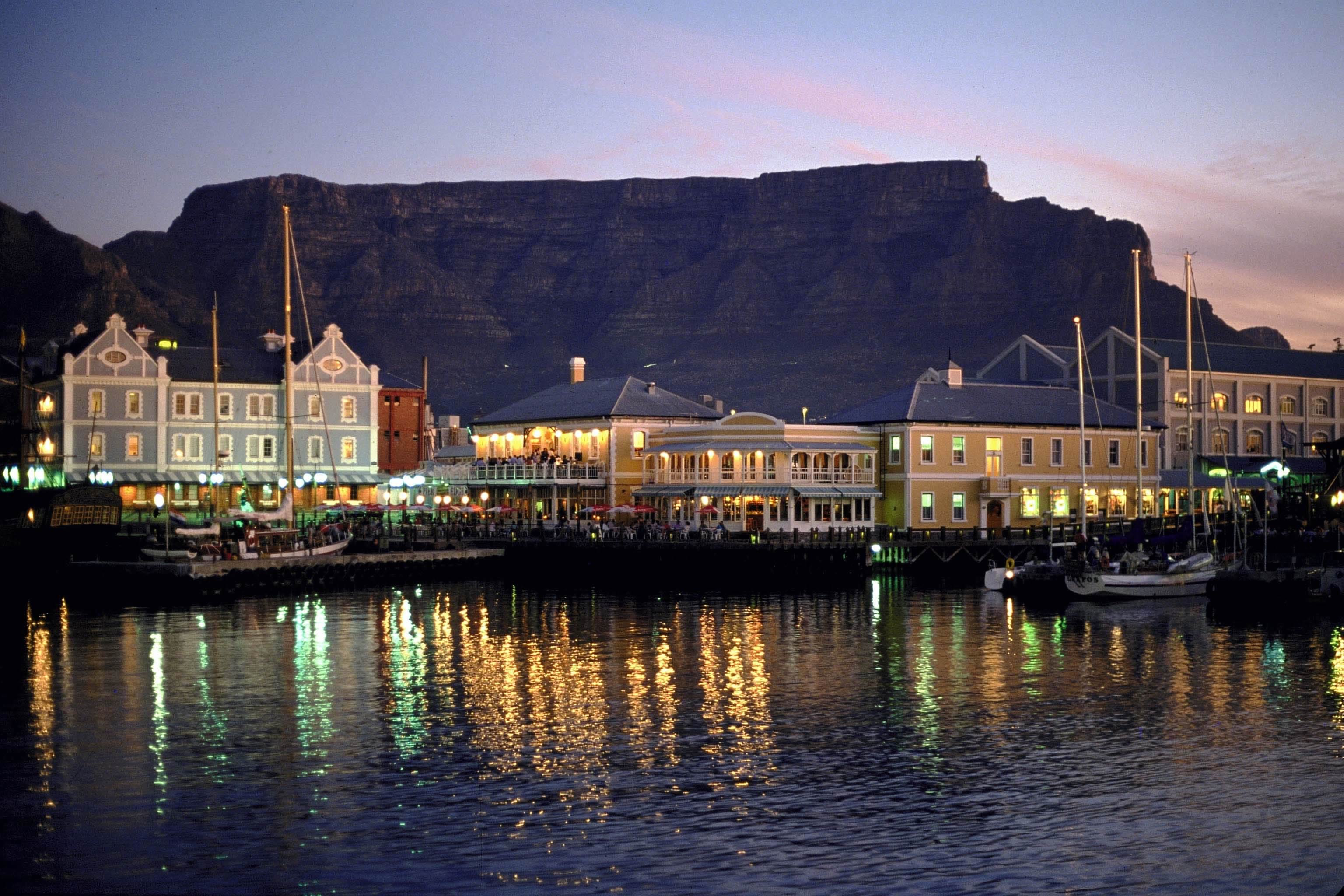 The Victoria and Albert Waterfront
The V&A Waterfront is a mixed-use development comprising residential and commercial property, hotels, retail stores, dining, leisure and entertainment facilities. Spanning 123 hectares, it's a space where you can work, live, eat and play. This attraction is one of Africa's most visited destinations and attracts 24 million people evey year! It is the oldest harbour in the Southern Hemisphere, and has Table Mounatin as it's backdrop, making it that much more beautiful. This 123-hectare mixed-use development, which caters to both local and international visitors, has everything on offer from residential to commercial property, which includes hotels, retail districts, and extensive dining, leisure and entertainment facilities. Its many heritage sites and tourism landmarks make it both exceptional and unique, as does the recently opened Zeitz Museum of Contemporary Art Africa (MOCAA), which hosts the world's largest collection of contemporary art from Africa.

Yachts in the Harbour of the Victoria and Albert Waaterfront
See the Penguins at Boulder's Beach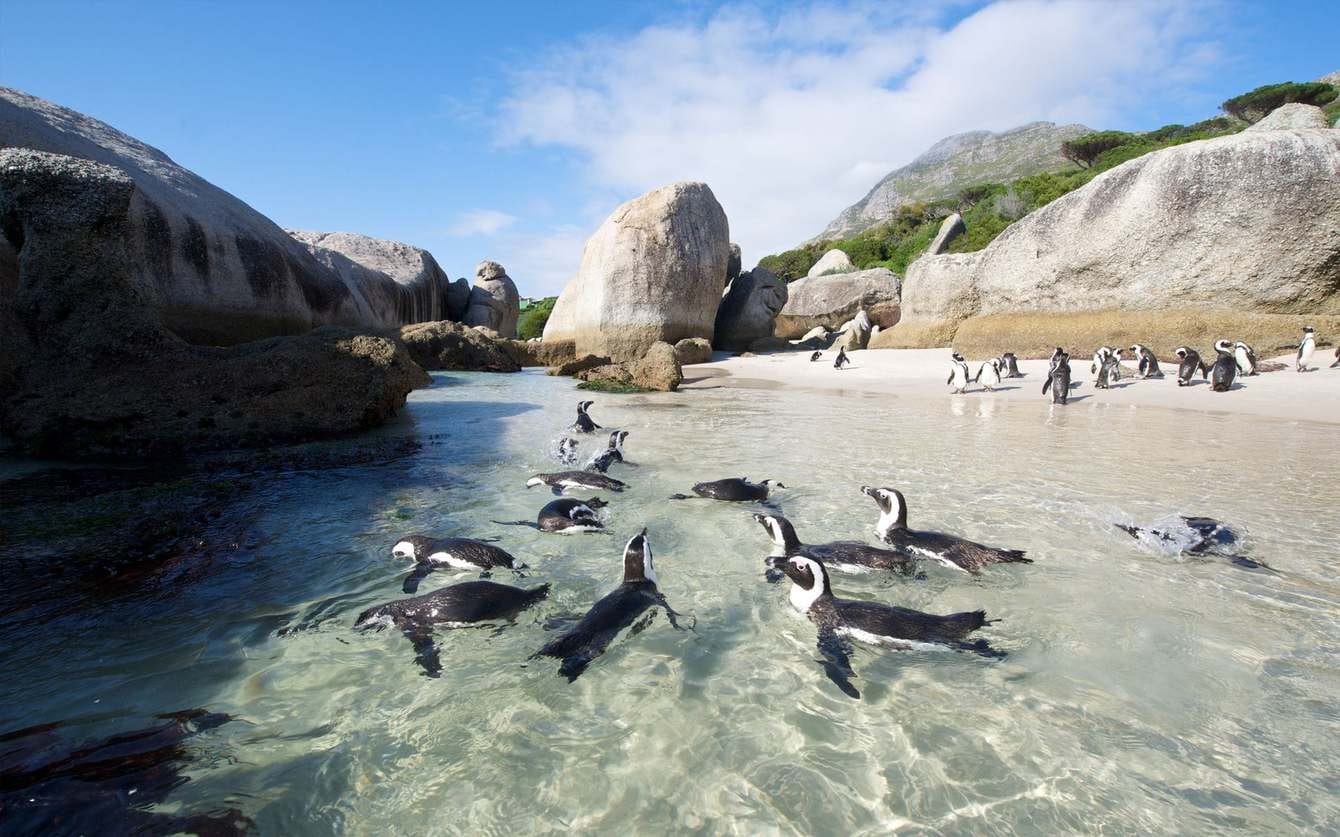 Swim with Penquins at Boulders Beach
Boulders Beach is a sheltered beach made up of inlets between granite boulders, from which the name originated. It is located in the Cape Peninsula, near Simon's Town towards Cape Point, near Cape Town in the Western Cape province of South Africa. It is also commonly known as Boulders Bay. The beautiful Boulders Beach is one of Cape Town's most visited beaches and the only place in the world where you get close to African Penguins. Boulders Beach isn't just a great place for penguins, it's also a popular family-friendly swimming beach where kids can climb over the boulders, explore the rock pools, or swim in the cool, clear False Bay water. It's also a great place for a leisurely picnic. Due to the R65 conservation fee, the beach is rarely packed. Boulder's beach is always clean and safe, because it falls under the Table Mountain National Park Marine Protected Area.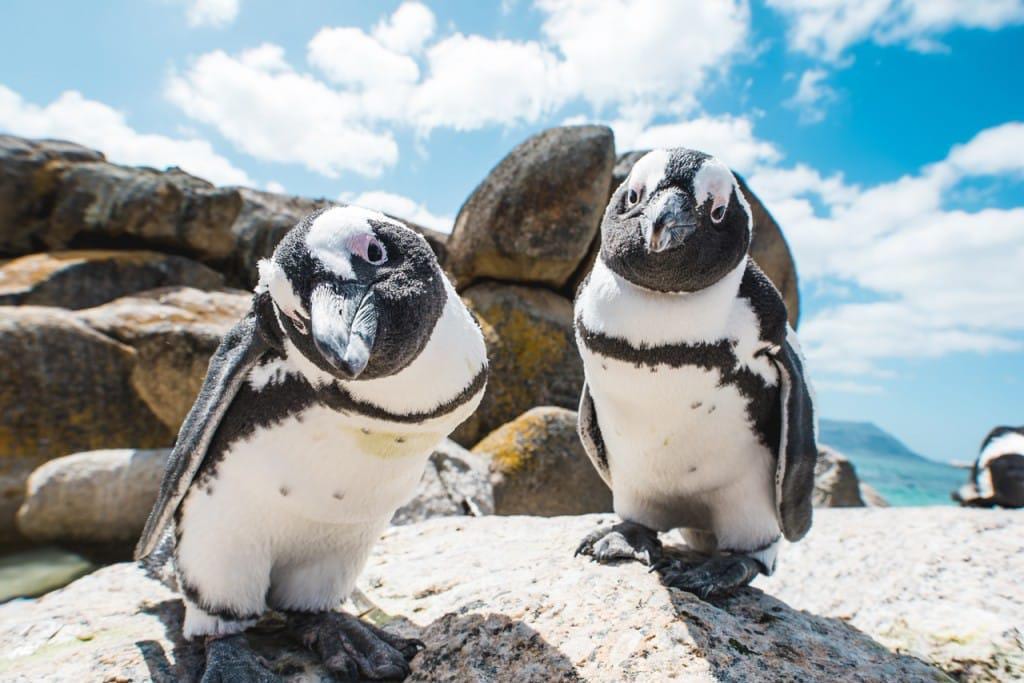 Close up of the African Penquin at Boulders Beach
Enjoy a cocktail on the Clifton beaches...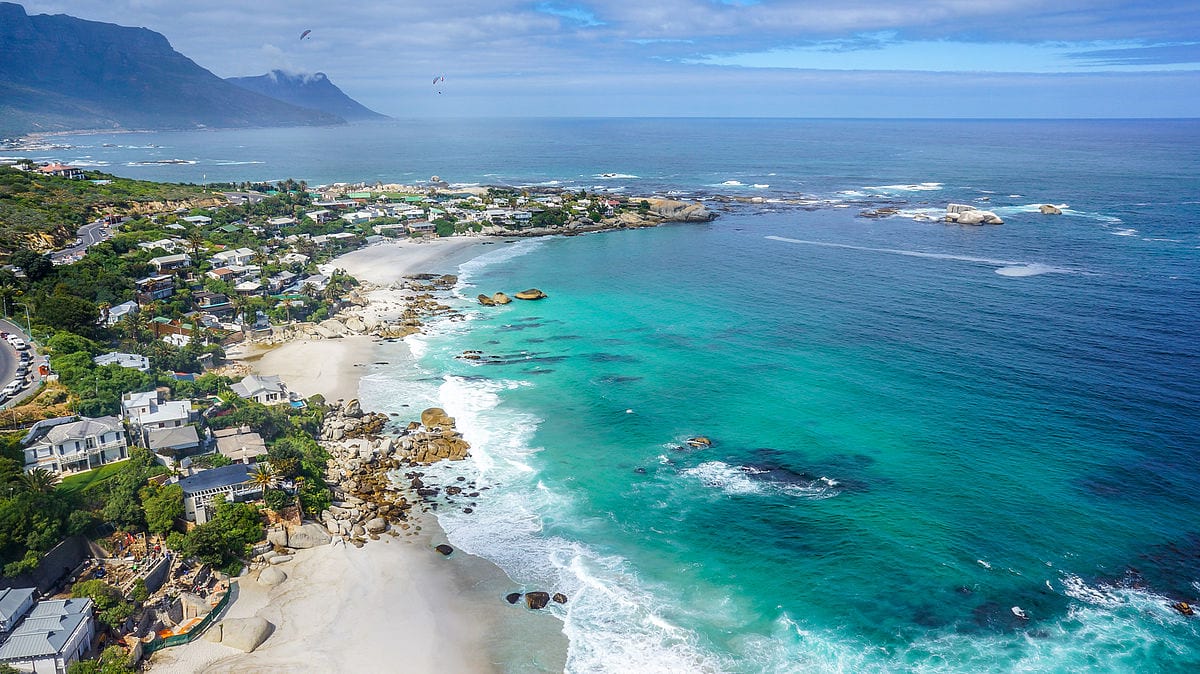 View of The Beautiful Clifton Beaches Backed by the Twelve Apostles
Four white sandy coves seperated by huge natural boulders define the four discrete beaches of Clifton. All are open to the public, are sheltered from summer's south easter winds and are popular with locals and with visitors to Cape Town.
Clifton First Beach (on the northern side, closest to Cape Town city center) is the smallest beach, drawing a mixed crowd of locals and surfers. The strongest surf (for board and body surfing) occurs at First Beach and diminishes along the other Clifton beaches, being weakest at Fourth beach. Beach Bat tournaments are also frequently held at First Beach.
Second Beach is frequented by younger beachgoers and students, playing beach volleyball and beach bats.
Third Beach is a gay beach, popular with gay men.
Fourth Beach is particularly popular with the young and trendy and is typically crowded in summer. The sea is cold, so this is a beach more for tanning and enjoying the beach ambience than for swimming. The beach is not accessable from Victoria Road to physically disabled visitors. Fourth Beach has earned Blue Flag status.
Visit the Vibrantly colourful Town, Bo-Kaap!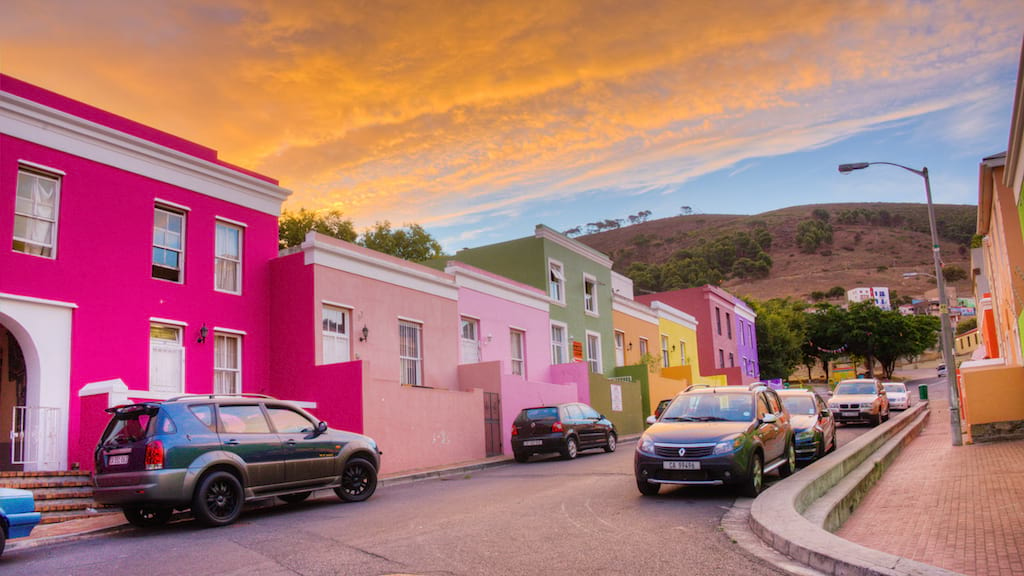 Colourful Houses of the Bo Kaap
Situated at the foot of Signal Hill, on the fringe of the city centre, and formerly known as the Malay Quarter, the Bo-Kaap's origins date back to the 1760s when numerous "huurhuisjes" (rental houses) were built and leased to slaves. These people were known as Cape Malays, and were brought from Malaysia, Indonesia and the rest of Africa to work in the Cape. This town is a mix of Cape Dutch and Georgian architecture, in distinctive multi-coloured rows on steeply cobbled roads. The choice of colour is said to be attributed to the fact that while on lease, all the houses had to be white. When this rule was eventually lifted, and the slaves were allowed to buy the properties, all the houses were painted bright colours by their owners as an expression of their freedom. Many of the families in the Bo-Kaap have been living there for generations. Today the Bo-Kaap community is a significant part of our cultural heritage!!!
Take a drive down to Cape Point in the Cape of Good Hope Nature Reserve
Cape Point is a promontory at the southeast corner of the Cape Peninsula, which is a mountainous and scenic landform that runs north-south for about thirty kilometres at the extreme southwestern tip of the African continent in the Republic of South Africa. Cape Point is in the Cape of Good Hope nature reserve within Table Mountain National Park, which forms part of the Cape Floral Region, a World Heritage Site. It includes the majestic Table Mountain chain, which stretches from Signal Hill to Cape Point, and the coastlines of the Cape Peninsula. This narrow stretch of land, dotted with beautiful valleys, bays and beaches, contains a mix of extraordinarily diverse and unique fauna and flora. The Point' has been treated with respect by sailors since it was first sighted by Dias in 1488. By day, it was a landmark of great navigational value until the introduction of radar. By night, and in fog, it was a menace. Ships had to approach closely to obtain bearings and thereby were exposed to the dangers of Bellows Rock and Albatross Rock. And so the lighthouse was built. The original lighthouse was built in 1859 on Da Gama Peak, the summit of Cape Point, 238m above sea level. This made it very ineffective in mist which mandated the establishment of the second lighthouse at 87 meters. The newer lighthouse, built in 1914, is the most powerful on the South African coast. It emits three flashes in a group every 30 seconds and revolves. The old lighthouse still stands here and is now used as a centralized monitoring point for all the lighthouses in South Africa.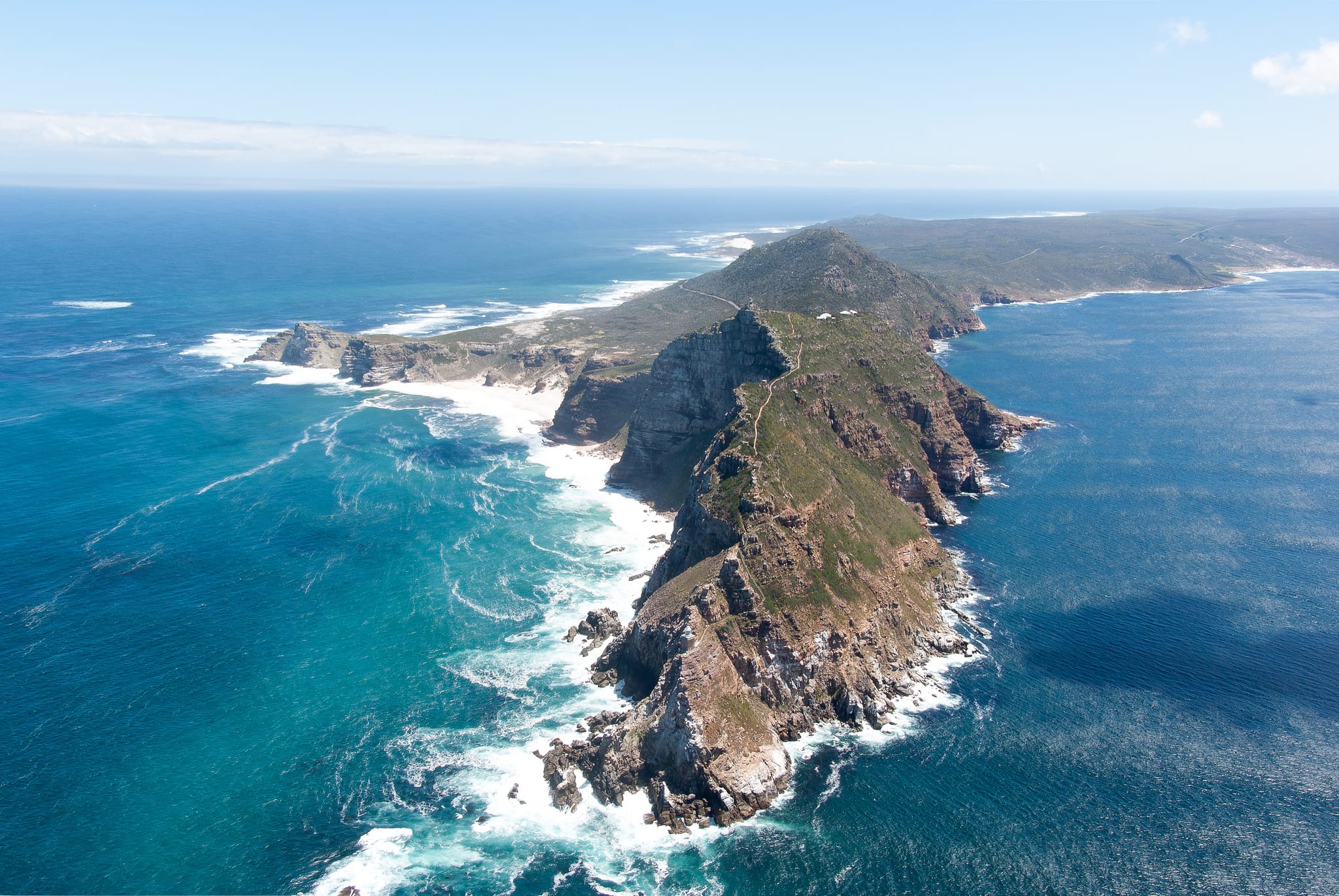 Aerial View of the Dramatic Cape Point Where the Atlantic and Indian Oceans Meet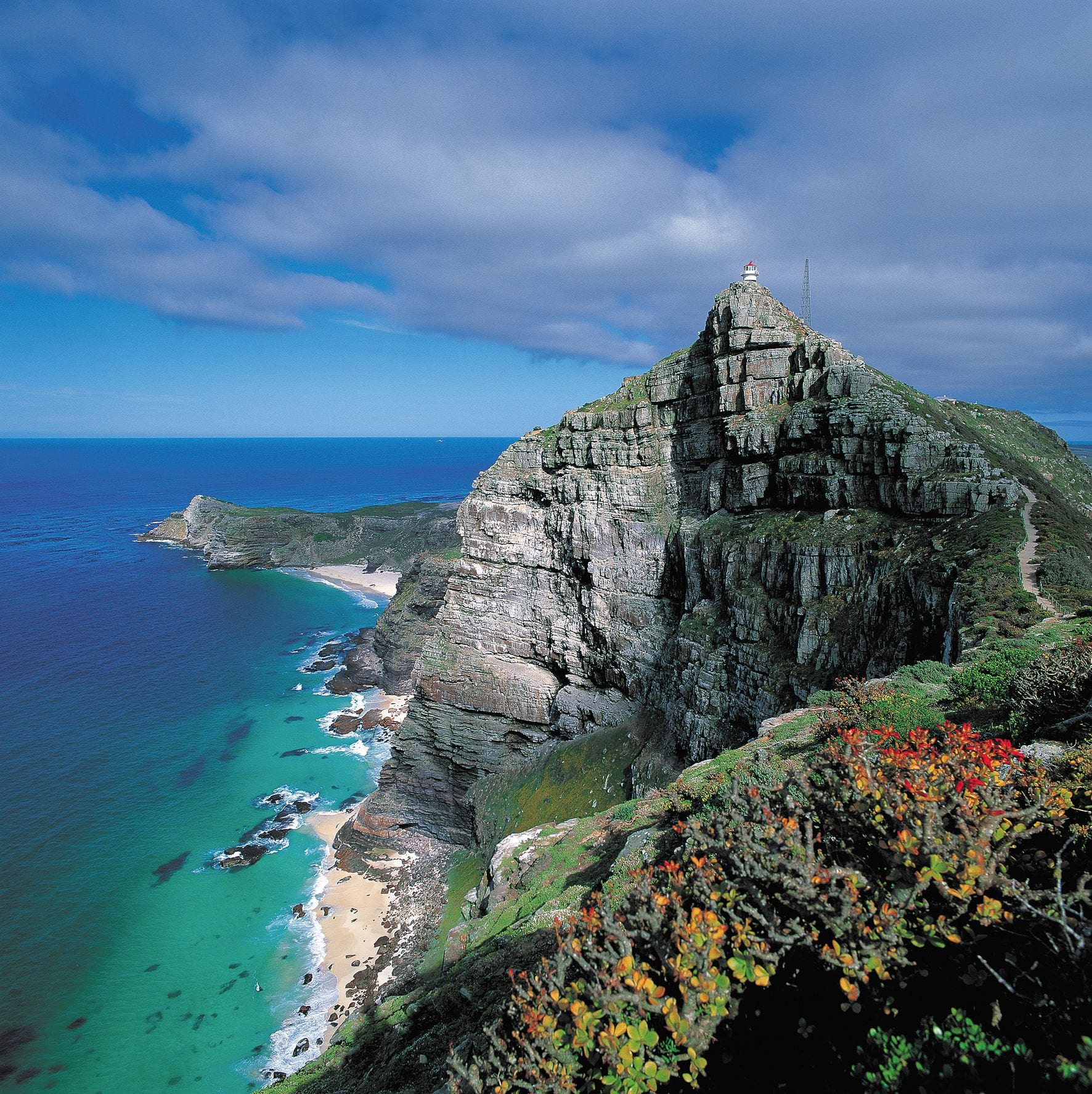 View of Cape Point with Coves and Bays
Take a picture at the iconic colourful huts at Muizenberg beach!
Muizenberg is a beach-side suburb of Cape Town, South Africa. It is situated where the shore of the Cape Peninsula curves round to the east on the False Bay coast. It is considered to be the birthplace of surfing in South Africa and is currently home to a surfing community, centered on the popular 'Surfer's Corner'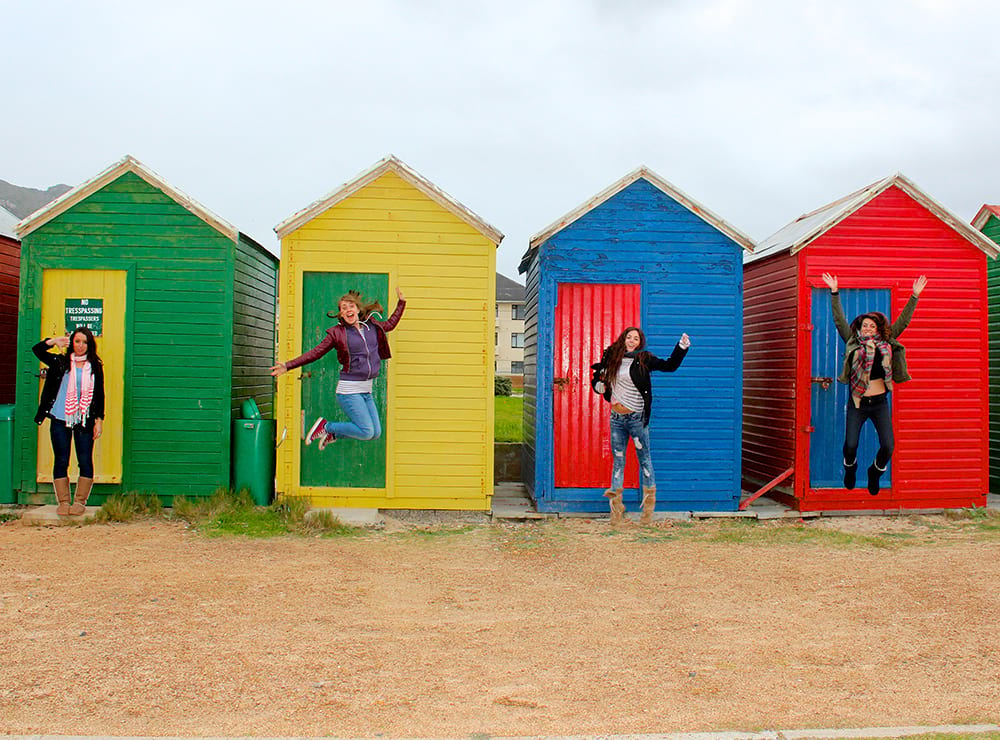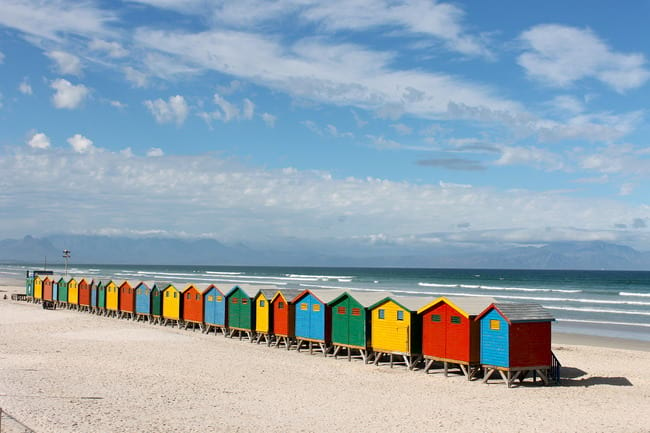 Quaint Beach Houses of Muizenberg
Hike or take a Cable car up Table Mountain
Hiking Table Mountain will delight you in so many ways and meet you on so many levels. People climb the mountain for reasons as varied and numerous as her trails. Some do it for exercise; others see it as a challenge and regard the rugged terrain as a proving ground. There are those who crave only the peace and solitude of the high summits; to find beauty in lonely places; to explore and experience nature; to escape the daily grind.
Whatever your reason, this is one mountain you want to climb. If you enjoy nature and the outdoors, or if you have a sense of adventure and an inquisitive mind, then a hike up Table Mountain is highly recommended. Conquering the mountain on foot is an exciting and rewarding experience in that you get a true sense of its size, height, grandeur and wildness. Topping this are the intangibles: the exhilaration of scaling a mountain, the thrill of discovery, a sense of achievement and the invigoration of immersing yourself in nature.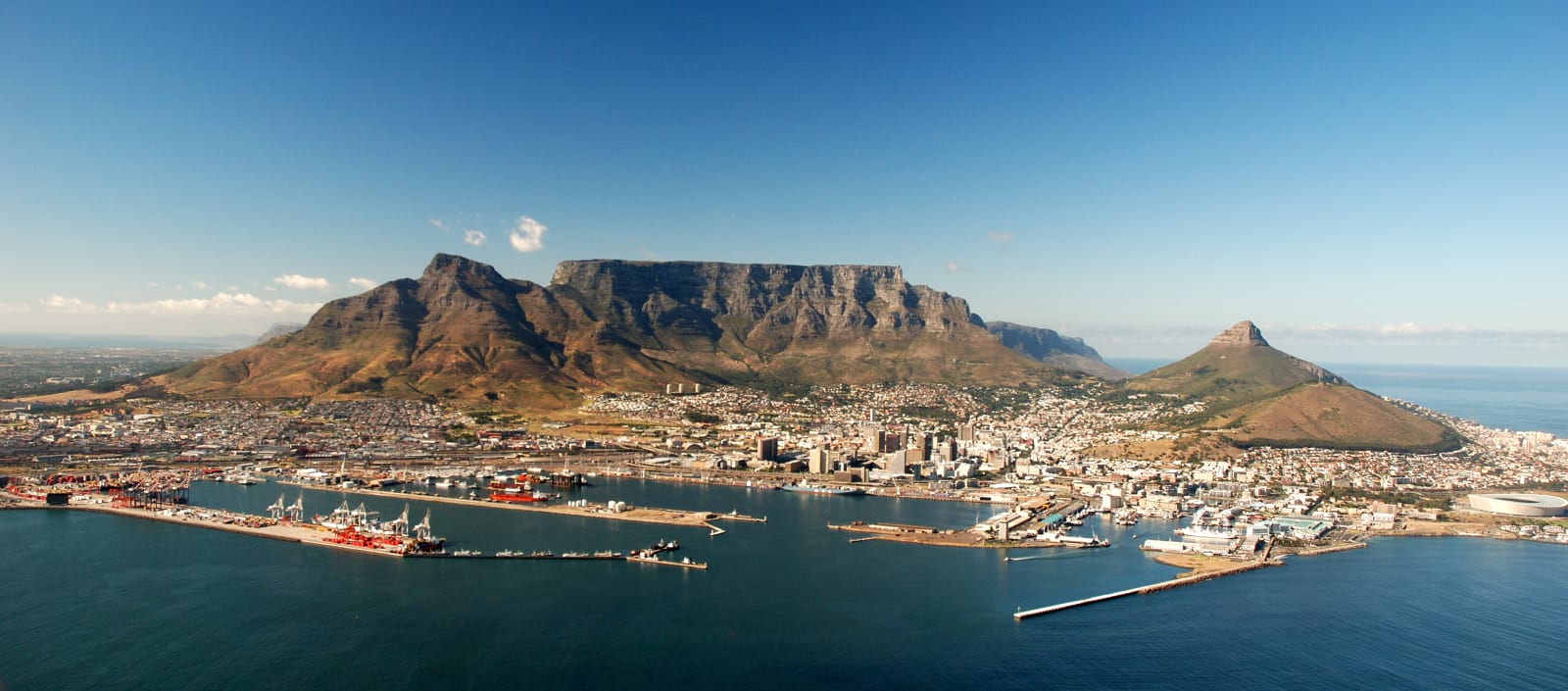 Aerial View of Cape Town Harbour
Cable Car up Table Mountain
The Table Mountain Aerial Cableway Company has been providing visitors with a world-class experience since October 4, 1929. The company operates in a National Park and World Heritage Site.
For a fast and convenient way to experience the Cableway, buy your tickets online before you arrive (please remember that you will still need to queue for the Cableway on busy days).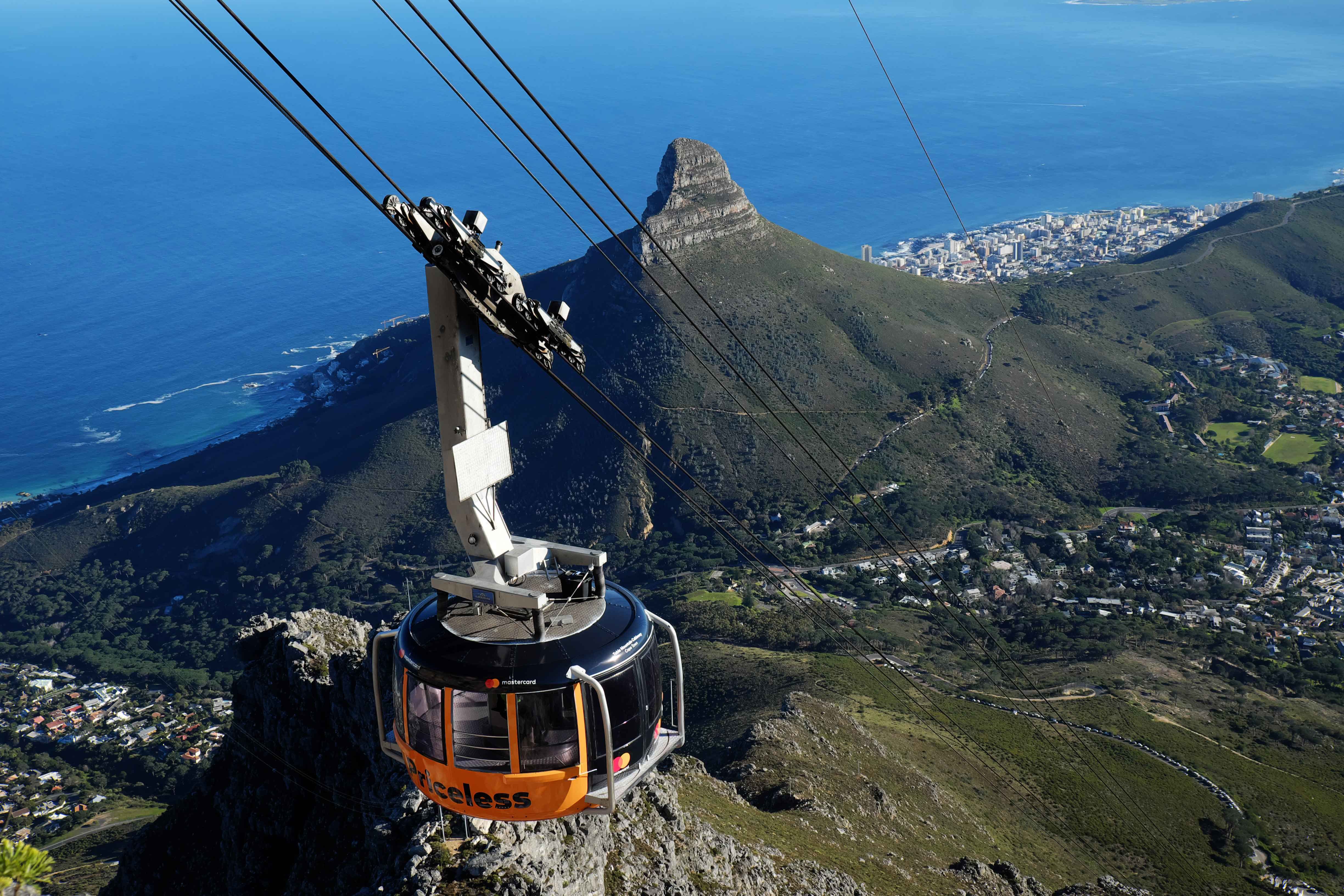 Wonderful Views from the Cable Car Up Table Mountain
Visit the Historical fishing town, Simon's Town
Simon's Town, sometimes spelled Simonstown, is a town near Cape Town, which is home to the South African Navy. It is located on the shores of False Bay, on the eastern side of the Cape Peninsula. For more than two centuries it has been a naval base and harbour. Simon's Town is one of South Africa's oldest towns, situated 35km outside Cape Town. This neighbourhood is renowned for its rich maritime history and is home to the South African Navy, which holds a festival in the town every April. Simon's Town is really an attraction in its own right, and you will need to set a full day to fully explore it.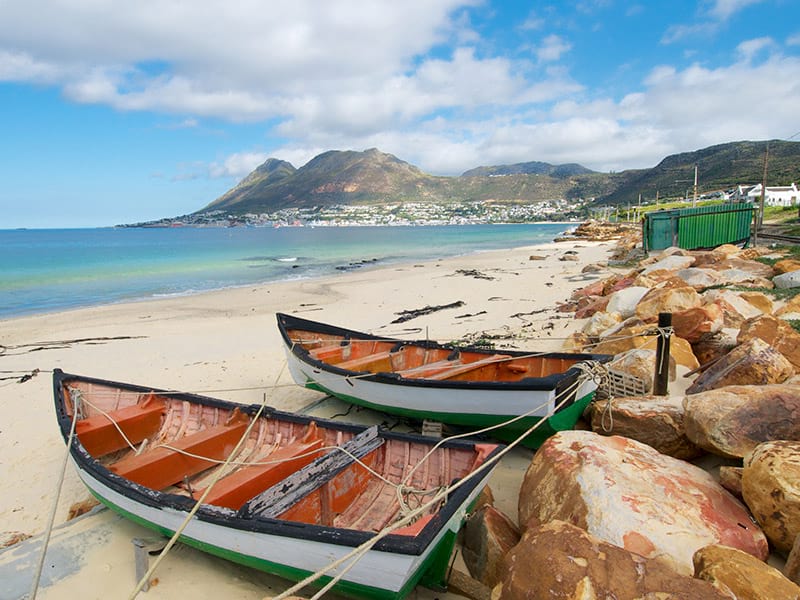 Simonstown Beach Toward Cape Point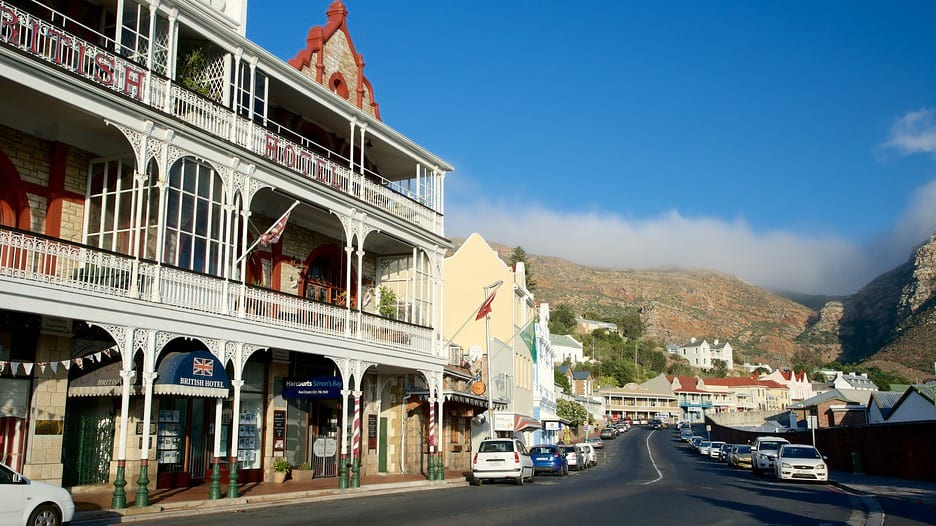 Street Scene of Historic Navel Town of Simonstown
Enjoy a delicious lunch and beverage at the Brass Bell in Kalk Bay
The Brass Bell is located in the heart of the historic fishing village of Kalk Bay, Cape Town. This seaside location not only offers one of the most amazing views in Cape Town but with its 8 different dining areas, there is something to suit everyone. From seafood platters, traditional fish and chips, delectable steaks, wood-fired pizza's, kiddies menu and a range of vegetarian options, we have a fantastic selection of meals on offer. Order a drink and then sit back and see what is on special including line fish of the day. Why not start with seasonal fresh oysters or mussels or spicy chicken livers to get your appetite going.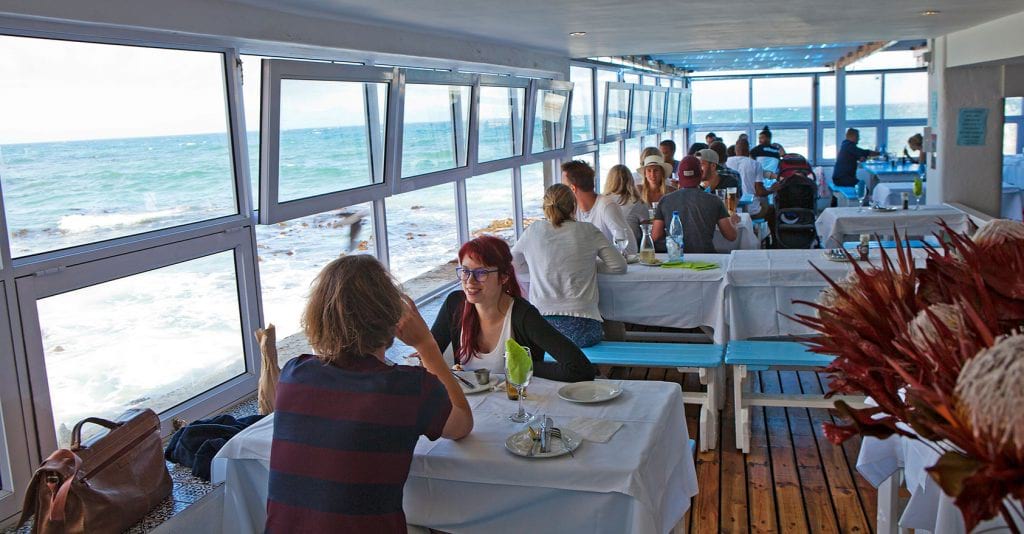 The Brass Bell Restaurant in Kalk Bay. Best Seafood and You Can Hear, See and Smell the Sea
Check out other awesome local advice at https://getlocal.africa.